See Inside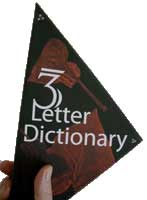 bus (female noun) A much-maligned device for hauling people.

bye (interjection) Diminutive of goodbye. [ and thanks for buying! ] (Yijing: Retreat #33)

low (verb) To make the understandably mournful sound of a cow, to moo. (Yijinj: The Gentle (The Penetrating, Wind) #57)




The 3 Letter Dictionary folds up into a one inch thick, 8 1/2" x 8 1/2" by 12" triangle. Within its accordion-folds are three separate paths, determined by the apex opened. Altogether the book contains twenty-six pages. Representative pages from each of its three section appear below.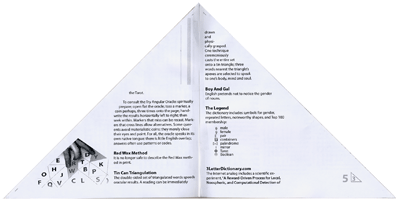 Page 5, within the introduction, includes a representation of the "Try Angular Oracle" in action, a three-fingered spelling of "wry." In addition to instructional descriptions of several oracular methods, page 5 also introduces the gender within English nouns.
| | |
| --- | --- |
| | Page 19, deep within "The Definitions," shows entries for T, U, and V, and a sample "morphodox," demonstrating how the word "tip" tips. |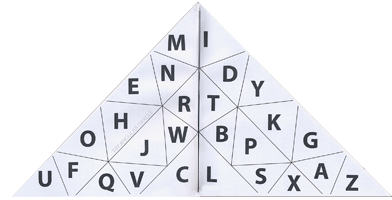 Page 24, the "Try Angular Oracle," provides rapid answers within a magical triangle whose six six-way intersections each sum up to 78.